Junior & Senior High Youth Ministry
Our Youth Group meets on Wednesday evenings directly after worship.
In a place they've made their own,  junior & senior high youth have the opportunity to fellowship together, study God's word, and apply it to the challenges they face in today's society.
Youth group is an opportunity to have fun, learn, and grow, while participating in a variety of activities with their peers.
Sunday Morning Services:
10:00 AM
Wednesday Night Services:
7:00 PM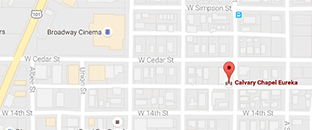 1300 California St. Eureka, CA 95501