Our Women's Ministry provides a variety of activities for women to build Christ-centered relationships with other women of the church body.  There are multiple opportunities to participate and enjoy fellowship:  Bible studies, times for prayer and worship, special events, and social opportunities.
Refer to the monthly bulletin for current details.
Teaching #3 Jen Mrotzek (Stay-treat 2020)
Worship #2 - Sherri Youngward (Stay-treat 2020)
**meeting temporarily canceled**
Join us for a webcast at 9:00am
..or...
8:45am & 10:30am
**meeting temporarily canceled**
commit to pray with us at home at this time
Mid week updates posted
-HERE-
7:00pm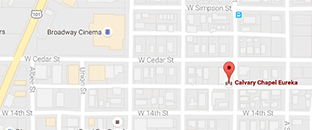 1300 California St. Eureka, CA 95501
Calvary Chapel Eureka
 PO Box 6920, Eureka, CA. 95502
 (707) 443-1196