We desire to meet together in each others homes for food & fellowship, but also for the building and equipping of the saints for the purpose of outreaching to others. All of these are vital to the body life of the local church.
Acts 2:42 "...they continued steadfastly in the apostles' doctrine and fellowship, and in breaking of bread, and in prayers." Acts 2:46 "...they, continuing daily with one accord in the temple, and breaking bread from house to house, did eat their meat with gladness and singleness of heart."
---
See Pastor Dan
for information on current home fellowships.
Sunday Morning Services:
8:45 AM & 10:30 AM
Wednesday Night Services:
7:00 PM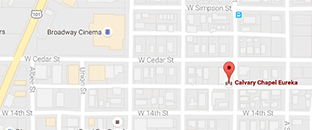 1300 California St. Eureka, CA 95501