Eureka has been named as one of the best small arts towns in America. One reason is Arts Alive, which keeps Old Town and Downtown Eureka up well into the evening on the first Saturday each month. On this special night, artists, musicians, and the community of all ages, swarm the streets of Old Town Eureka a place once ruled by waterfront roughnecks and roustabouts. Warm light and laughter float out of galleries and shops. Fragments of conversation mix in the air with the wafting tunes of street musicians. Between 6 pm and 9 pm, tourists and residents alike graze and sip their way along the waterfront, Old Town and Downtown sections of Eureka, where dozens of historic galleries and businesses showcase the works of amazing artists.
Like the early Christians in Jerusalem, in the court yards of Herod's Temple, a committed group from Calvary Chapel Eureka meet with people in Old Town as well. We boldly share our faith through personal interaction, and offering prayer, this leads to witnessing the testimony of Christ in our lives, reasoning from God's Word, and expressing God's Love and forgiveness.
Meet at 5:30pm in Old Town, near the Gazebo in the Plaza, for prayer and preparation before we venture out into the streets; or consider praying for those who do.
(live feed begins at 8:45am@)
---
7:00pm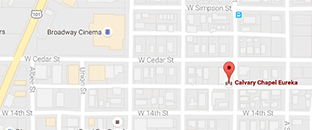 1300 California St. Eureka, CA 95501
Calvary Chapel Eureka
 PO Box 6920, Eureka, CA. 95502
 (707) 443-1196