The mission of the Children's Ministry, is to extend the church's vision to the kids and their families as they build a solid spiritual foundation in their lives and homes. Our desire is that all the kids in this fellowship grow-up to become faithful followers of Jesus Christ.
OUR PURPOSE:
Teach the Word of God, verse by verse, to all children.
Exalt the Lord through praise and worship.
Support the fellowship of the body of believer with love to the children.
Equip the children to serve God and family
OUR VALUES:
The Children's Ministry servants are committed to:
-Helping the children discover the love of Jesus Christ, the Grace of God our Father, and the power of the Holy Spirit in their lives.
-We desire to come alongside parents and become a significant support structure in helping them to raise their kids in the fear and admonition of the Lord.
-Grounding your child in God's Word and Love is our ultimate goal in every service and with every activity that we engage in.
OUR AGE FORMAT:
Sunday Morning Service (2nd service only)
- Nursery
- Preschool – Kindergarten
- 1st ~ 3rd Grades
- 4th ~ 6th Grades
- Jr. High & Sr. High ~ Main Sanctuary
Wednesday Evening Service
(available after worship - children's group devotional time)
**meeting temporarily canceled**
Join us for a webcast at 9:00am
..or...
8:45am & 10:30am
**meeting temporarily canceled**
commit to pray with us at home at this time
Mid week updates posted
-HERE-
7:00pm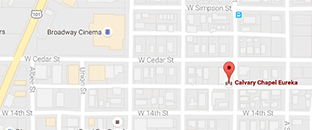 1300 California St. Eureka, CA 95501
Calvary Chapel Eureka
 PO Box 6920, Eureka, CA. 95502
 (707) 443-1196